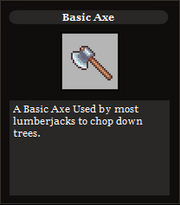 The Basic Axe is given to you at the start of your adventure. The Basic Axe is used to chop down trees; by doing so will give you Logs . Most Lumberjacks use this sturdy axe to chop down trees. You can also acquire the Basic Axe at the Quick Shop.
No stat bonuses are given, though you will be able to cut down trees.
Did you know: The Axe is as powerful as a basic fishing rod.
Ad blocker interference detected!
Wikia is a free-to-use site that makes money from advertising. We have a modified experience for viewers using ad blockers

Wikia is not accessible if you've made further modifications. Remove the custom ad blocker rule(s) and the page will load as expected.