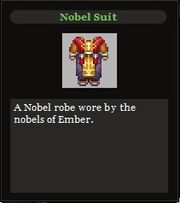 The Nobel Suit is a purely cosmetic outfit, it dus not give any stat boost of any kind. it is bought in the shop in Winter Village for 2000 gold
The Nobel Suit grants the user these boosts:
Str: +0

End: +0

Int: +0

Agi: +0

Will: +0

Locations:
Edit
Nobel Suit can be aquired from:
- Winter Cabin Shop |2000 gold|

Description:
Edit
A nobel robe wore by the nobels of Ember.

Ad blocker interference detected!
Wikia is a free-to-use site that makes money from advertising. We have a modified experience for viewers using ad blockers

Wikia is not accessible if you've made further modifications. Remove the custom ad blocker rule(s) and the page will load as expected.